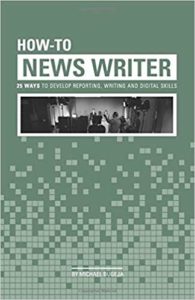 Michael Bugeja, professor in the Greenlee School of Journalism and Communication, released his latest book, "How-To News Writer: 25 Ways to Develop Reporting, Writing and Digital Skills".
This book, available on Amazon, is described as a step-by-step guide on how to create content across platforms with a focus on the community newspaper newsroom.
"Michael Bugeja's 'How-To News Writer' is a hands-on guide with tips every reporter can use— whether early in their career or looking to enhance their skills using new techniques or technologies," said Susan Patterson Plank, executive director of the Iowa Newspaper Association, the book's publisher.
Bugeja released the first portion of this book in the 1980's while he was a professor at Oklahoma State University through Oklahoma Press Association.
Once he relocated to Iowa State, the OPA gave Bugeja the rights, and he wrote a second edition with his new publisher, The Iowa Newspaper Association (INA) in 2004. A third edition was published in 2012 making the newest book is the fourth edition.
"We keep updating editions because the technology changes [like] blogs, social media, videography," Bugeja said. "The basics of journalism never change—fact accuracy, press freedoms, good writing, etc.; but when the platforms go digital (and then to the cloud), revisions need to be made."
According to the book's description on Amazon, the current edition features new chapters on: How to produce content on demand, how to cover a beat, how to shoot digital photos, how to plan and create videography, how to blog and micro-blog and how to crowdsource. In addition to the new chapters, remaining chapters on news writing, ethics and First Amendment rights are also updated.
Half of the proceeds of "How-To News Writer: 25 Ways to Develop Reporting, Writing and Digital Skills" go to the Iowa Newspaper Foundation while half go to the Bugeja Kappa Tau Alpha Fund.