The Leo Mores Newspaper Leadership Institute is a three-day program created to enhance the leadership, organizational and performance skills of mid-to-upper level newspaper professionals. The program establishes a network of current and future newspaper leaders who understand and can respond to local, regional and national issues impacting the newspaper industry.
Since 2009, 62 newspaper professionals have graduated from the leadership institute.
The INF is grateful to Steve and Alan Mores of Harlan Newspapers for their commitment of $60,000 to establish the Leo Mores Newspaper Leadership Institute. The gift is in honor of their father Leo Mores, longtime publisher of the Harlan News-Advertiser and Harlan Tribune.
The Institute is comprised of three one-day seminars held September 15-18, 2021. Each session explores an area of professional interest. Learning focuses on developing a solid understanding of the skills necessary for leadership, which participants can immediately put into practice. The number of participants is limited to 12 newspaper professionals to maintain the effectiveness of small-group instruction.
The Leo Mores Newspaper Leadership Institute has become a program recognized for building the talents and advancing the careers of Iowa's newspaper leaders. It is an exciting opportunity for any newspaper employee seeking a leadership role at their newspaper and in their community. It will provide support and assistance to newspaper professionals at any size operation as they build newspaper operations relevant to their communities.
Questions? Contact Jana Shepherd, jshepherd@inanews.com or 515-422-9051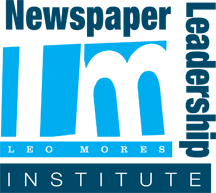 INSTRUCTIONS:
1. The application must be completed in full with signatures of applicant and nominator.
2. Please type or print application.
3. Answers must be limited to space allowed.
4. Application must be received by August 2, 2021
ADMISSION CRITERIA: Applicants may submit themselves or be submitted by another newspaper professional. Applicants should have a minimum of three years of experience, or equivalent experience in the newspaper industry or in management.
PARTICIPATION: Participation is required each of the three days, September 15-17. The participant will get the maximum benefit out of this program by attending each day.
PRICING:
$190 if you apply by June 30
$215 if you apply after June 30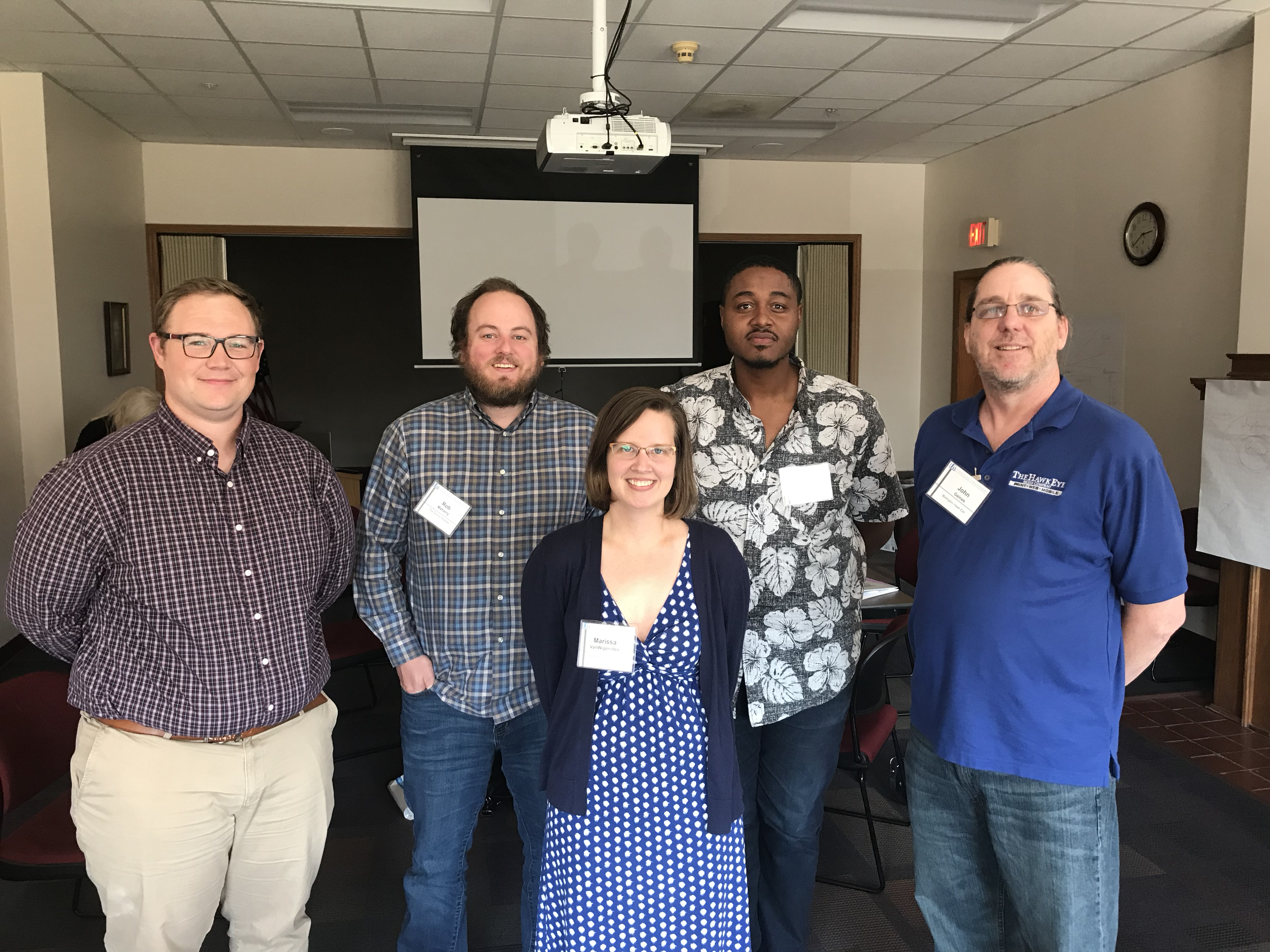 2019 Graduates
Pictured from left to right: Nick Moffitt, Rob Maharry, Marrissa VanWingen-Ites, Ty Rushing and John Gaines.
2019
John Gaines, Burlington Hawk Eye
Rob Maharry, Grundy Center Register
Nick Moffitt, Kalona News
Ty Rushing, Sheldon N'West Iowa Review
Marissa VanWingen-Ites, Iowa Falls Times-Citizen Communication
2017:
Anne Blankenship, Webster City Daily Freeman-Journal
Terry Gasper, Lake Mills Graphic
Paige Godden, Indianola Record-Herald and Indianola Tribune
Emily Layne, Stateline Publications
Sarah Lefeber, Iowa State Daily
Matt Milner, Ottumwa Courier
Kyle Ocker, Centerville Daily Iowegian
Nicole Presley, Pella Chronicle
Erin Sommers, Lake City Graphic-Advocate
2016:
Aaron Burns, Charles City Press
Clinton Davis, Armstrong Journal
Amber Kephart, Sigourney News-Review
Tess Nelson, Shenandoah Valley News
Matthew Rezab, Carroll Daily Times Herald
Katie Rohman, Enterprise Publishing
Monica Tews, Eastern Iowa Weeklies
Steve Woodhouse, Knoxville Journal-Express
2015:
Christy Ayer, The Burlington Hawk Eye
Bob Fenske, New Hampton Tribune
Geof Fischer, Iowa Newspaper Foundation
Katie Mason, Coon Rapids Enterprise
Wanda Moeller, Ottumwa Courier
Nick Pedley, Hampton Chronicle
Abigail Pelzer, Newton Daily News
Whitney Sager, Boone News-Republican
2014:
Molly Angstman, Mid-America Publishing
Kim Brooks, Monticello Express
Diane Goodlow, Grinnell Poweshiek County CR
Kristin Grabinoski, Armstrong Journal
Chris Hall, Charles City Press
Jeff Holschuh, Newton Daily News
Audrey Ingram, Carroll Daily Times Herald
Dustin Kass, Dubuque Telegraph Herald
Sara Millhouse, Dyersville Commercial
Chris Vrba, Pocahontas Record-Democrat
2012:
Sara Konrad Baranowski, Iowa Falls Times-Citizen
Mendy McAdams, Fremont-What Cheer Vine
Matt Muilenburg, Dyersville Commercial
Ana Olsthoorn, Garner Leader
Tara Seible, Waterloo Cedar Falls Courier
Molly Wade, Vinton Cedar Valley Times
2011:
Greg Eckstrom, Boone News-Republican
Lisa Miller, Rock Rapids Lyon Co. Reporter
Brian Plueger, Spencer Daily Reporter
Chris Rhoades, Enterprise Publishing
Kate Thompson, Shenandoah Valley News
Adam Wilson, Altoona Herald-Index
2010:
Kenneth Brown, Dubuque Telegraph Herald
Kevin Brown, Adel Dallas County News
Bob Eschliman, Clarinda Herald-Journal
Jeff Grant, Sheldon N'West Iowa Review
Robin Handy, Sigourney News Review
Ryan Harvey, Mid-America Publishing
Monica Kuper, Iowa Farm Bureau Spokesman
Randy Petersen, Burlington Hawk Eye
2009:
Tony Baranowski, Iowa Falls Times Citizen
Scott Ervin, JewellSouth Hamilton Record-News
Matt Grohe, Mid-America Publishing
Josh Jorgensen, Dyersville Commercial
Julie Ann Madden, Akron Hometowner
Patty Newton, Diagonal Progress
Scott Spurgeon, Bloomfield Democrat
Myrna Wagner, Sheldon N'west Iowa Review
"The Mores name and quality community newspapers have been synonymous in this state for many years. So when the Leo Mores Newspaper Leadership Institute was first announced in 2009, I knew it would be a great program. At first I was hesitant to commit to five Fridays over a five-month period. As it turned out, the time invested in the Leadership Institute was worth far more than what I would have accomplished those five days in the office.

The program is great for newcomers to the industry, but also for those who are eager to progress in this constantly-changing environment. We enjoyed presentations from both newspaper professionals and from those outside our industry. Session topics focused on every aspect of the business — the changing media environment, working with budgets, developing leadership skills and contributing to your community. After some sessions I could immediately see ways to apply what I had learned. Other times I found the information helpful many months down the road, in a situation I hadn't anticipated.

The Leo Mores Newspaper Leadership Institute is great for anyone looking to improve their leadership skills and better themselves for the next step on their career journey."

Myrna Wagner
Sheldon N'West Iowa Review
"I thought the Mores Institute program was outstanding. Along with networking with classmates, and learning about how newspapers large and small have similar challenges, the program also helped to define what leadership really is and how to become a leader in the industry and in your community. I really came to understand myself and my role much better. The time commitment is minimal compared with the knowledge you take from the program."

Ken Brown
City Editor, Dubuque Telegraph Herald
"It's easy to seal ourselves off in our own little portion of the media world. We think of our neighboring newspapers as the competition and believe the way we are doing things is the right way; the ONLY way. This class allowed me to venture outside my comfort zone and realize my interest in the industry ran much deeper than the sports page I edited at the time. We didn't solve all the problems the newspaper industry faces, but opportunities to discuss those issues are too few in our business. The Leo Mores Leadership Institute was one of the most productive experiences of my journalism career."

Tony Baranowski
Director of Local Media, Iowa Falls Times Citizen Communications
"Being in the Mores Leadership Institute last summer was a great experience, and one that I would recommend to anyone in the newspaper profession who is wanting to further their professional development.  Not only were the sessions very informative, but it was a great way to network with current and future leaders of our profession.  I still keep in contact with a few of the individuals in class, which is great when I need to bounce ideas off of someone other than my own staff.  The fact that sessions were only once a month, made it easy to plan ahead, and the time commitment was definitely worth it.  This program is very unique, and one that Iowa is very lucky to have.  If you have a chance to partake in it, sign up right away."  

Chris Rhoades
Director of Sales & Marketing, Enterprise Publishing Company